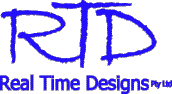 Software Updates
WELCOME This web page is maintained as a courtesy to Vital Sales and Service Pty Ltd and its clients. It allows us to better support the VitalPRO 'Residential Call Response System' Software by way of software maintenance releases and feature upgrades.
You will find the latest versions of the software on this page, along with upgrades, bug fixes and/or other support information as required.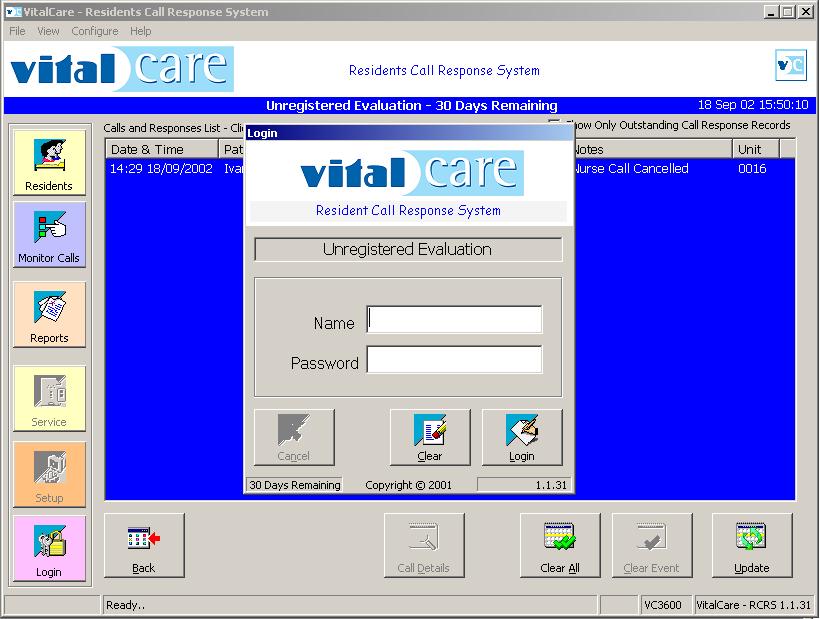 Download: VitalPRO - Residents Call Response System Release 1.3.19 (Full) (29.4MB).
This is a full install. Once downloaded you will need to extract the files to a temporary directory.
To install the software run Setup.exe.
To create an install CD copy all the files extracted from the Zip file to the CD. When the completed CD is placed into a CDROM drive it will automatically launch the installer.
Download: VitalPRO Help System (1.2Mb) Click here to download the VitalPRO help file.
You may use this to get a quick feel for the system before downloading the entire installation package.

WHAT'S NEW
Extensive changes to reports
Added Low Battery Report
Ability to run a report over a specified period by entering start and end dates.
Added 'Data Purge' function that allows old data to be pruned for the database to maximise sort/search speed
Database backup now optionally compresses the database as it does the backup.
Added Event Lockout option that discards duplicate events for the same transmitter if they arrive within a predefined period.
Added Import/Export of Transmitter Configuration
Split User interface and Logging into two executables. The logging is now started as a Windows Service so that Call Logging is automatically enabled as soon as the machine boots. For backward compatibility it is possible to disable the service and run in an 'stand alone' application (ie. pre 1.3.0)
Added context sensitive on-line help.
Fixes to all bugs reported to date.

PLEASE NOTE:
This release contains changes to the database so users of previous versions will need to use the database included in the install package.
If you were using version 1.2.5 (or greater) then you may Export any transmitter details that you wish to keep and use the Import function of this version to automatically load the transmitter details into the new database.
N.B. It is not possible to import/export residents' details nor any calls history.

Should you have a particular need to preserve your current data it may be possible to upgrade your database to the new database version. Please contact Vital Sales & Service or send Real Time Designs an email to discuss.
Evaluation Version
To help you evaluate the suitability of VitalPRO for yor application it runs in a fully-functional 'evaluation' mode. 'Evaluation' mode allows 30 days of unlomited, unrestricted use of the VitalPRO system, after that time the software will no longer run and it is required that you purchase a license.
When a license is purchased you will receive an activation code that, once entered will permanently remove the 30-day limit.
Running as a Service
The VitalPRO application is now shipped as two executables -

VitalPRO.exe - This module is the main user interface. It allows configuration of the software, monitoring and display all logged events. It allows the management of VitalPRO users and their passwords and access levels. Its is also used to run reports.
VitalMon.exe - This module manages the Call monitoring and logging of call events.

By default the components are installed so that the service is disabled. This allows VitalPRO to be configured as required before the Service is started.


NOTE: Any changes made from VitalPRO (the UI) that affect call logging will NOT take effect until the machine is restarted. Users/Administrators that are familiar with the Service Control Manager (SCM) can 'reinitialise' the VitalMon Service without needing to restart the machine by 'Pausing' the VitalMon service (using then SCM) and then 'Resuming' the Service. When the Service is resumed it will reload its settings for the registry.
Getting Started
1. Install the software as normal. Follow the Installer prompts.
If the installer prompts to restart the machine select 'No' - You will still need to restart the machine but can defer it until the following steps have been completed.
2. Run VialPRO and log-in to the system. A default login of user 'admin'; password 'admin' is setup for your initial use.
3. Select the Configure->Preferences menu and make sure that the paths to the database, backup and reports directories are correct. (A demo database, with preloaded data, is available for you to experiment with)
4. Select the 'Guardian Controller' tab and make sure the correct 'comm port' and Controller type (ie. VC1600/VC360x) are selected.
5. Make sure that the 'Run as Service' checkbox is checked.
6. You may now shutdown VitalPRO and then restart the machine.


NOTE: It is important to restart the machine to allow the SCM to start the VitalMon Service.
When the system starts the SCM will start the VitalMon Service - even if no user is currently logged in. Once started it will being logging all call events. To indicate that the Service is running an Icon is displayed in the system tray once a user is logged-in to the machine.

Once the Service is running it is possible to modify the settings without needing to restart the machine by making the required changed from VitaMon rather than VitalPRO. This is done via a menu that is displayed when the VitalMon icon, in the System Tray, is 'right-clicked'.

If the VitalMon Service detects any errors upon start-up (such as not being able to find the database or not being able to open the assigned serial port) it will write a message to the system event log and shutdown. it is possible to look at this log to get information as to why the VitalMon service shutdown.

When VitalPRO runs it checks periodically that the VitalMon Service is running. If it detect that VitalMon is not running it will display an onscreen error that needs to be acknowledged. If this occurs it is essential that the situation be resolved as NO FURTHER event logging will occur until the VitalMon Service is running. (Even if VitalPRO is on screen and running!)

NOTE: If it is not possible to restart the VitalMon service one may re-enable logging for within VitalPRO.exe by logging into VitalPRO and selecting the menu 'Configure->Guardian Controller'
Then uncheck the 'Run As Service' checkbox.

The machine will then need to be restarted.

Date Last Updated: 20 October 2003